What's Your Thunder? The Attitude of Gratitude
December 6, 2017 / Category: Business Success
Ralph Waldo Emerson famously said, "What you are thunders so loudly, I cannot hear a word you say to the contrary." When people think of you or me, what are the thoughts or feelings about the 'thunder' they experience?
Thanksgiving just passed. We are in the throes of all the commercialism that is the holidays (really, Christmas displays before Halloween?). A time of reflection, celebration, family, and friendship. Overeating, overindulging, seeing the family we love – and perhaps drives us crazy…
…all the things that make us who we are! For who are we if not shaped by our family, identified by our friends, measured in many ways by our accomplishments, and as healthy as our lifestyles? All of them make up our thunder…
…scary thunder, sharp thunder, destructive thunder. Or rolling thunder, transformative thunder, thunder that makes people sit up and take notice of themselves, their situation, their impact, or their world in a different way.
We live in truly thunderous times. 24/7 we are bombarded by the bombastic. The noise locally, nationally and globally is loud and often scary. Many of us have become immune to that noise. We must be immune, for if we truly listen, it becomes deafening…
…and that lack of listening, the required tuning it out, can truly put us in the shade and be part of the unwitting storm. So, let's make what we are – our thunder – bring light.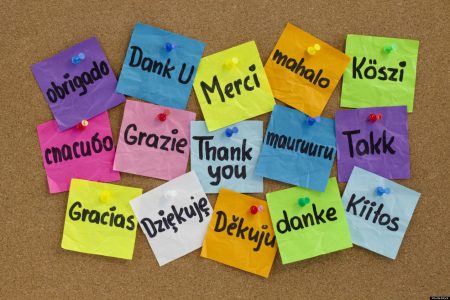 This is a time of thanks. It's a time for us to really say big Thank YOU's. Writing the words, shaking hands, and giving the (politically correct, with permission, being careful) hugs. (I actually ask permission now to give a compliment to a woman. Crazy!).
Thunderous applause and shy, sweet smiles are the results of who we are – and can be.
The attitude of gratitude, while a cliché, is powerful. Giving and thanks are the most powerful ways to create true prosperity and peace. As Henry David Thoreau said, "I am grateful for what I am and I have. My thanksgiving is perpetual."
What can we give? At work, we can give a few moments to be sure we connect with the persons with whom we work, every day. 'How are you?' 'How's your Mom?' 'How was your weekend?' We can say thank you. Every day. 'Thanks for thinking of that detail. I'd have missed it.' 'Thanks for that powerful debate we just had. It made us better.'
In addition to giving us greater self-esteem, making us happier, and making us more optimistic, gratitude does have a great career and work benefits:
• Makes us better managers
• Reduces impatience and improves decision-making
• Helps us find meaning in our work
• Reduces employee turn-over
• Reduces work-related stress
(Sources: http://happierhuman.com/benefits-of-gratitude/; http://happierhuman.com/the-science-of-gratitude/; https://www.forbes.com/sites/amymorin/2016/11/20/how-an-authentic-thank-you-can-change-your-workplace-culture/#299641279909; https://gbr.pepperdine.edu/2010/08/gratitude-at-work/ )
We often bemoan the oxymoron that "customer service" can be. Yet, when the customer service rep comes on the line or is in front of us, there are two magical phrases you can use: his/her name; and 'How are you?'. Customer service reps are trained to ask how we are. Watch what happens when you use his/her name, and say, 'Been an OK day so far, Joseph. How's your day going?' The rapport, attitude, and service will invariably change.
As the holidays are upon us, let's say 'thank you' large and small. It will prosper us at home, work, and in the community. The thunder of thanks keeps on giving.
If cultivating a happier, more productive organization sounds interesting to you, please feel free to contact us for more information. Our team will help you wrap up 2017 with an attitude of gratitude and position your business for great things in the new year! Info@ThirdLevel.com or +1-800-262-0705